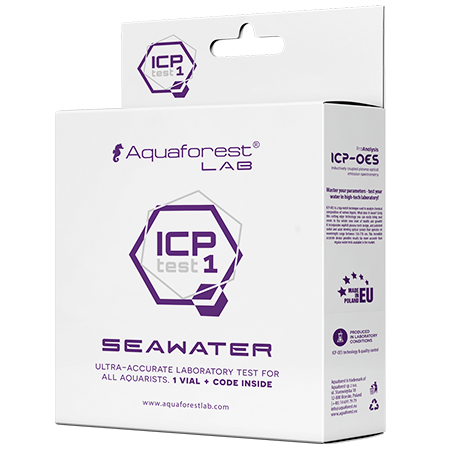 ICP Test 1
ULTRA-ACCURATE SEAWATER TEST FOR ALL AQUARISTS
38 elements
1 vial
Seawater
Description:
ICP-OES test designed to thoroughly analyze parameters of saltwater from your tank and your RO water. The set contains 2a test vial, individual test code and an envelope for shipping the test to our laboratory. Single ICP-OES test provides accurate results of 38 parameters analysis. In our laboratory we examine: Li, Si, I, Ba, Mo, Ni, Mn, Be, Cr, Co, Fe, V, Zn, Hg, Se, Cd, Sn, Sb, As, Al, Pb, Ti, Cu , La, Sc, W, Na, Ca, Mg, K, Br, B, Sr, S, P, PO4 + salinity and KH!
What is ICP-OES test? ICP-OES (Inductively Coupled Plasma Optical Emission Spectrometry) is a technique used to analyze the composition of many different types of liquid samples, e.g. drinking water, brine or sea water. The Aquaforest Lab owns the highest resolution spectrometer on the market with plasma excitation with a unique, patented optical system made with horizontal and vertical plasma. Wavelength range 130-770 nm. The analysis and processing of the entire spectral spectrum takes only 2 seconds. Thanks to the fast reading system, elemental analysis possible with a sampling frequency of up to 10 Hz.
Why Aquaforest Lab? We own not one, but two of these highly advanced ICP-OES spectrometers meaning that we can perform water tests faster and provide results and solutions for aquarists almost immediately after receiving the sample.
Usage:
Rinse the test vial twice with the water intended for analysis before collecting the actual sample. Fill the vial with water and make sure, that you close it tightly. Sign up and log in www.aquaforestlab.com. Use the vial code to register your sample. Fill in the sender details on the enclosed envelope and mail the sample to our lab for analysis. We will notify you by email once the results are available. Please log on www.aquaforestlab.com website in order to receive your reports.
Related products: